November 12, 2019
The sold out Remembrance Day concert was moving and profound, with with Tom Kellough conducting, Katherine Hume on piano, and soloists Louis Dillon, Bass, Shelley Dillon, Alto, Sara Douglas, soprano and Nick Sommer, Tenor.
September 2019
Mozart's Requiem rehearsals have begun and it's going to be a moving performance to honour Remembrance Day. A gifted composer and musician, Mozart was working on the Requiem when he died at age 35 in 1791. To this day, his Requiem remains one of the most popular choral works for musicians and audiences alike! There is still time to join us to sing the Requiem (non-members welcome!). Rehearsals are on Thursday nights from 8 pm to 9 pm starting September 5th. The performance is on Remembrance Day, at 3pm November 11th at St. Hilda's Church. Please let our choir director Sara know that you're interested.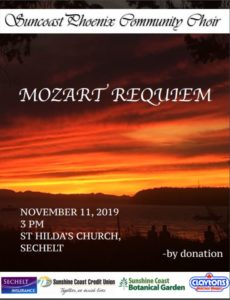 June 2019
The spring concerts were well-received, not to mention a lot of fun! We sang everything from Mendelssohn, African and folk songs, to the Beatles.  We were thrilled with the beautiful poster designed by our own Mary Baker!
March 2019
Congratulations to Choir Director Sara and Piano Collaborator Tom on their resoundingly successful  production of Fiddler on the Roof! With a cast of 56 students on stage, 6 in the band, and 4 more backstage, they gave a remarkable and professional performance that left the audience singing.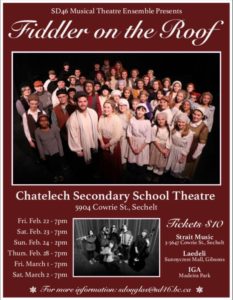 February 2019
Pat Catherwood, we will miss you dearly. A memorial for Pat was held on Saturday, February 23 and Suncoast Phoenix sang "To My Old Brown Earth" and joined with the Pender Harbour Choir to sing Fauré's  "Cantique de Jean Racine".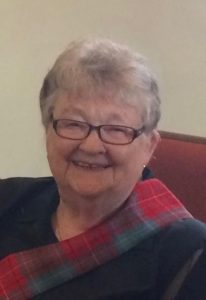 January 23, 2019
The fall season was a resounding success and we had wonderful feedback in the Coast Reporter!
About the Faure Requiem:
"A big church-full of kisses to the Suncoast Phoenix Community Choir for their superb benefit concert put on at St. Hilda's Anglican Church on Nov. 11. Not only did they fill the house, they donated all the proceeds to our Spread the Light Restoration Campaign, a total or $3,000! – Campaign Committee".   Coast Reporter, Friday, January 11, 2019, p. 22.
About our Christmas Concert:
"Kisses to Sara Douglas, Tom Kellough, SunCoast Phoenix Choir and Pender Harbour School Choir for a glorious concert at St. Hilda's. You lifted my heart and my spirit."  Coast Reporter, Friday, December 21, 2018, p. 34.
November 30, 2018
Our Christmas concerts will be a blend of lovely choral repertoire and holiday favourites… AND will feature the Pender Harbour School Choir! What a treat!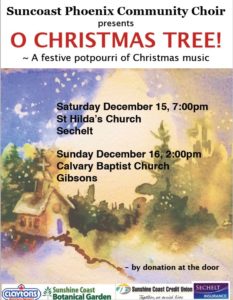 August 1, 2018
The library committee with Judy, Jean, Christianne and Jan are having fun with the music! Kindly check for any that might have been missed any home and drop off at Judy's!
Happy summer!